Form: Advance / Overseas Finding Application
Description
This form can be used to apply for:
An advance finding about the eligibility of research and development (R&D) activities before it is possible to register those activities. An advance finding can be sought in relation to activities conducted in the income year an application is made, and/or the subsequent two income years.
An overseas finding on the eligibility of overseas R&D activities.
An advance finding is not a pre-condition of registration nor does it replace registration. Companies will still be required to register their activities at the end of each income year that the activities were conducted.
You must submit an application for an Advance/Overseas Finding before the end of the income year in which the activities were conducted. There is no provision under the Industry Research and Development Act 1986 for accepting overseas finding applications received after the statutory deadline. Innovation Australia has no discretion for accepting a late application.
Please note, there may be some system delays experienced when navigating within the form, particularly when applying for a large number of R&D Activities.
While we protect the security of your Advance / Overseas Finding Application, we also recommend you are careful to maintain the security of your form by taking precautions to protect the emailed link, provided when you save the form and only provide the Tracking Code to people authorised by you to complete the form on your behalf.
Advanced and Overseas Findings & COVID-19
Acknowledging the effects of COVID-19 on Australian businesses, we will accept a 'provisional' advance or overseas finding applications for the 1 July 2019 - 30 June 2020 income year, due by 30 June 2020.
A provisional Advance or Overseas Finding application requires you to submit an Advance or Overseas Finding application smart-form by 30 June 2020 with the minimal detail outlined below, on the basis that the further information required to assess the application will be provided to us by 30 September 2020.
The minimum details required in a provisional Advance or Overseas Finding application are:
Company contact details
Descriptive name/title of claimed R&D activities
Companies that submit a provisional advance or overseas finding application on or before 30 June 2020 will be considered to have lodged their application for the activities it includes by 30 June 2020.
For more information on a provisional Advance and Overseas Finding, please click here.
Eligibility
The R&D Tax Incentive provides tax benefits for expenditure on eligible R&D activities. Please note that eligibility is determined at the activity level and not at the project level. Not every activity in a project becomes eligible simply because some activities are R&D activities.
The questions in this form aim to obtain specific details about activities that will be assessed during the Finding. The assessment pays close attention to the requirements, tests and conditions in the legislation and considers relevant principles from previous decisions, including those arising from Administrative Appeals Tribunal (AAT) cases.
The questions are also intended to guide Applicants to provide sufficient detail in support of their claim and prompt them to:
Identify the problem and the new knowledge needed to solve it
Describe the experimental activities to be undertaken
Explain why an experiment is the only way to obtain the new knowledge
Describe other activities that will directly and relatively immediately support the experimental activities.
For more information about Findings, please review the documents about Findings that can be found under Key documents on the business.gov.au page.
Requirements
To complete this form you will need:
This form functions best when it is completed using the most recent version of your Internet browser. This form is not compatible with Internet Explorer 8 or earlier browsers. If you are using an earlier browser version, you may have difficulty in displaying the form correctly or it may not display at all.
Do not use your internet browser's 'back' or 'refresh' button as this will cause the form to close and any unsaved information will be lost. Navigate between sections of the form by using the tabs at the top of the form or by clicking 'Continue' or 'Go Back' at the bottom of each page.
You can save your unsubmitted form by clicking SAVE FOR LATER at the top of this form.
This form has a Tracking Code displayed in the top right corner. Please make a note of this Tracking Code for your records. The Tracking Code is required to reopen your saved form and you will need to provide this code if you require assistance with your form.
Unsubmitted forms are retained for a maximum of 60 days before being deleted. If you do not submit your form within this timeframe, it will be deleted and you will need to start a new form.
Attachments and submitting your form
Attachments are added to your form after all questions have been answered and the form has been submitted. After adding your attachments, make sure to click Continue to complete the submission of your attachments.
You will be provided with a receipt to confirm that your submission has been successful. Please keep this receipt for your records by using the "Download the form and receipt" link or by emailing yourself a copy of the receipt and submission. Both of these options are available in the "To keep a copy of the completed form" box on the Submission Complete page.
If you have any enquiries relating to submission of your form, you will need to provide your receipt number.
Service Provided By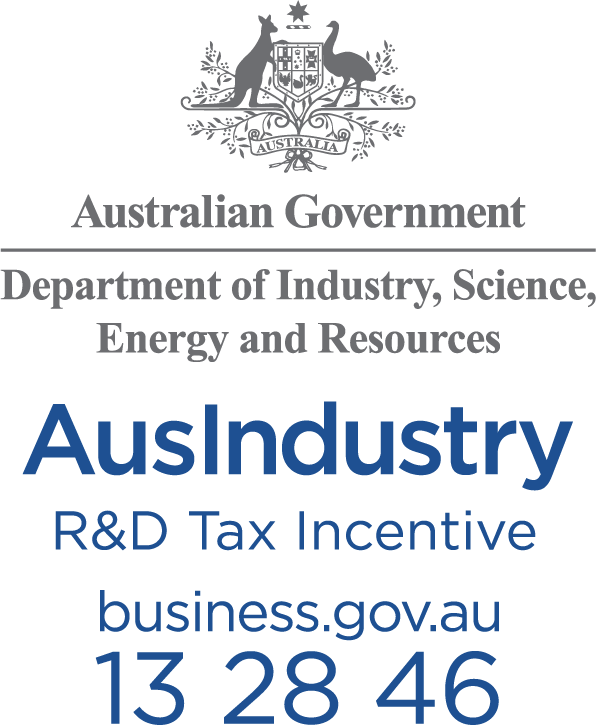 AusIndustry: R&D Tax Incentive Programme
Getting help
Throughout the form, various fields will display a help icon
. Clicking on this icon will display further information and clarifications about the question or data requirements of the form fields.
If you require assistance completing this form, please contact the R&D Tax Incentive Team via the AusIndustry Hotline on 13 28 46 or email Hotline@AusIndustry.gov.au.