Form: Business Evaluation Application Form
Description
This form is used to apply for Business Evaluation services under the Entrepreneurs' Programme. This form must be completed by an authorised representative of the applicant. Before completing the application, make sure you have identified an appropriate application contact. This person will be the primary contact for AusIndustry in relation to your project. Your contact may also be your authorised officer.
Eligibility
This form is for:
Please read the Business Evaluation Programme Customer Information Guide before completing this form to ensure you are aware of the programme's eligibility requirements and applicant obligations.
Requirements
To complete this form you will need:
This form functions best when it is completed using the most recent version of your Internet browser. This form is not compatible with Internet Explorer 8 or earlier browsers. If you are using an earlier browser version, you may have difficulty in displaying the form correctly or it may not display at all.
You can save your unsubmitted form by clicking Save and Close in the top right corner of the form.
If you do not have an Australian Business Account, you can return to your unsubmitted form using the Tracking Code displayed in the top right corner of the form. Please make a note of this Tracking Code for your records before you save and close your form.
If you log in with your Australian Business Account, a copy of your unsubmitted form will be saved to your account and you will be able to return to your form to complete it later. After you have submitted your form, you will be able to view a copy of the submitted form in your account. For assistance with using your Australian Business Account, please refer to the Australian Business Account home page.
Unsubmitted forms will be retained for a maximum of 30 days before being deleted. If you do not submit your form within this timeframe, it will be deleted and you will need to start a new form.
Attachments can be added to your form after all questions have been answered and the form has been submitted. After adding your attachments, make sure to click Complete to complete the submission of your attachments. You will be provided with a receipt to confirm that your submission has been successful. Please keep this receipt for your records. If you have any enquiries relating to submission of your form, you will need to provide your receipt number.
If you require assistance completing this form, please Contact Us.
Service Provided By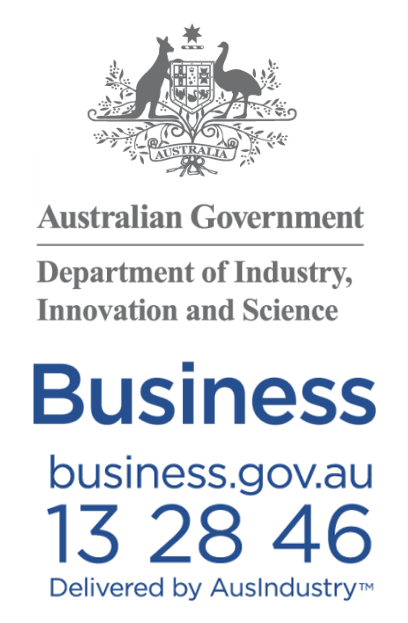 AusIndustry System
For assistance with any technical issues experienced while completing this application form please
Contact Us
. Our website and staff can help you with forms, finding business information and services and allow you to provide feedback, comments or suggestions.